Krajanské stretnutie v kaviarni Asylet
8. marca od 19. hod.
Poradenské služby
Daňové priznanie, prídavky na deti, styk s nórskymi úradmi, pracovné zmluvy, ai. kliknite


Krajania na Facebook-u
branko vladimír


home
| | |
| --- | --- |
| Slovaks in Norway - Slovak Society in Norway (NSF) | |
NSF members at the house & museum of B. Bjørnson at Aulestad by Lillehammer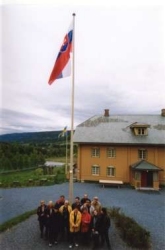 The Slovak community in Norway never boasted many persons. Its basis had been the immigrants from the period 1968 - 1970 and a few persons that arrived right after the WW II. The only organization from that period was Norwegian-Czechoslovakian Relief Society (Norsk-tsjekkoslovakisk Hjelpeforening). A new organization Forum Norge-Tsjekkoslovakia took over its function in 1989. After the breaking up of Czechoslovakia, a need to establish their own society arised among Slovak members of that organization. This led to the foundation of Slovak Society in Norway (Norsk-slovakisk forening) in 1993.
Czech - Norwegian Forum (Tsjekkisk - Norsk Forum) exists succesfully organizing Czech nationals and sympathizers.
How many Slovaks are there in Norway? We are some 250 Slovaks living permanently in Norway, mainly in and around the country's capital Oslo. Although we do have some addresses from far up north. To compare: There are some 900 Czechs and more than 1.500 Hungarians living in Norway. We may joke about Slovaks being an exclusive nationality group. Slovak Society in Norway is the only organization for Slovaks in Norway. The number of regular members varies between 50 - 65 persons, mainly Slovak nationals plus a few Norwegians (mainly spouses). The year 2003 has seen a birth of a new society that includes Slovaks among their members, Norsk-slovakisk Forum in Oslo (Spoločnosť priateľov Slovenska).
We meet 6 - 8 times a year. The informal gatherings are attended by some 20 - 30 persons. Social contacts among the country- men and women plus conversation in native language are important parts of these meetings. We have a library containing some 600 books that are available to the members for lending.
Since 1995, we do publish a small newspaper - MiniBudzogán. Its task is to provide information concerning ourselves and our native country Slovakia and in this way cement togetherness and national awareness among us.
Invitations to the Society's meetings are being sent to all members plus some 30 other country-men and -women.
---
Address:
Nórsko-slovenský spolok
Norsk-slovakisk forening
Skogbrynet 39 D
N-0283 Oslo

E-mail:


Bank account: 5083.06.95963 DNB Bank
---
How many Slovaks are there in Norway
Statistic from Statistisk sentralbyrå office:
Numbers for 1.1.2004
Land
born abroad
born in Norway
both parents
born abroad
born in Norway
1 parent
born abroad
Slovakia
401
34
85
Czech Republic
829
109
697
Hungary
1.302
368
1.265
Poland
6.797
793
3.386
---
Photo gallery

Last modified June 2012.

copyright 2000-2012 © Vlado Branko
Archív
---
---
slovník a učebnice
Nórsko-slovenský a slovensko-nórsky slovník.
Slovník má 300 strán.
Cena 170 NOK + event. poštovné.
!!! Vypredaný !!!
---
Nový Nórsko-český / česko-nórsky slovník.
750 strán, 25.700 nórskych výrazov a 32.300 českých ekvivalentov. Vreckový formát.
Zatiaľ najlepší slovník nórčiny v česko-slovenskej sfére. Česká verzia.
Cena 290 NOK + event. poštovné.
---
Norština – cestovní konverzace + Audio CD
Obsahuje 32 témat k ľahkému dorozumeniu, 500 konverzačných obratov a samoštúdium formou počúvania a opakovania. Česká verzia.
Cena 170 NOK + event. poštovné.
---
Nórsko-slovenský spolok / Norsk-slovakisk forening Skogbrynet 39 D, N-0283 Oslo, Norge Org. nr. 985 222 398